Remembering A Spiritual Giant
With deep sorrow we learned that Dr Vivian Subramoney, the chairperson of Open Schools Worldwide, passed away on New Year's Day 2021. Vivian, or Viv as he was affectionately known suffered from complications caused by the COVID-19 virus. In a great outpouring of grief, many friends and acquaintances expressed their sorrow at having lost such a spiritual giant.
Dr Phil Renicks, co-founder of Open Schools, distinctly remembers the first time he met Viv. "We met for a meal at a restaurant, but before Vivian took a bite of his meal he asked the server for a take-away box putting half of his meal in it. When we left the restaurant, he gave it to a homeless person sitting outside on the street. This was the Viv that we knew," he said.
Vivian loved his family and this was apparent in his life. "His favorite thing to do was to spend time with his family, especially his grandchildren. He loved them dearly and would see them every day. On weekends, he would visit them and they would make tents using sheets and blankets. Tata, which is what they called him, would soon have the children in fits of giggles as they camped out on the floor," said Angie Pape, Director of Open Schools Worldwide, who worked very closely with Vivian.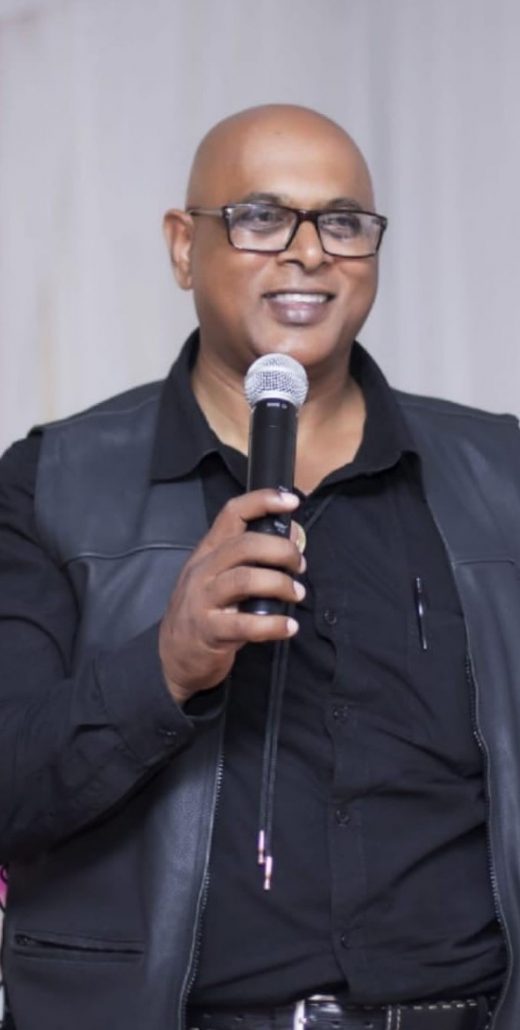 Vivian was born on 16 December 1960 in Northdene, Durban. After 2 years of Bible College, he served with the Apostolic Faith Mission, before pastoring a church in Johannesburg. He moved to Durban where he met his wife Dru. A few years later, they moved back to Johannesburg where Vivian started working at Emseni Hospital, a shelter for the destitute, homeless, and orphaned. He served as a director of Scripture Gift Mission and was actively involved in the development of the Pavement Project, a ministry counselling program to help marginalized children who have experienced trauma.
He later joined Open Schools Worldwide and was instrumental in developing the tutor's training materials and the Route 86:11 Board game. His strong leadership skills were indispensable during a difficult period in the life of the organisation.
He was a critical thinker and loved God's Word. He received his doctorate in December 2019 for his thesis on 'Pastoral Psychology, The Recovery Factor', the focus being on the Transformational Healing Ministry of the Church in addressing the needs of people exposed to severe trauma. He also studied Industrial Psychology, Human Resources Management, and Labour Law, and served as a Labour Consultant in South Africa.
During his lifetime, he helped establish two hospitals, shelters for destitute people, training centers for unemployed people, a home for abused and abandoned children, two street children's shelters and numerous church plants.
In addition to all this, he volunteered with the South African police force. "We were in his car once and a call came on the police radio. Vivian suddenly set off at a high speed. He pulled his blue light out from the glove box and put it on the car roof. I asked Vivian if we could slow down. But Viv said, 'people might be getting hurt, I need to get there'. That was his concern, always for people," said Dr. Alan McIlhenny, co-founder of Open Schools Worldwide.
He was passionate about marginalized children and those who were educationally deprived. His actions and life work reflected Proverbs 22:6, 'Train up a child in the way he should go: and when he is old, he will not depart from it.' He was very relational, larger than life, and would make you feel special and valued. When visiting the Open Schools projects, each tutor and learner felt his compassion and love. Vivian also had a very close personal relationship with Jesus and helped the tutors create opportunities to support the children's spiritual development.
"We are so blessed to be able to carry on Vivian's legacy, and, in fact, double the work that he co-started. We will make him proud and miss him every day," added Angie.
https://openschoolsworldwide.org/wp-content/uploads/2021/01/Viv-with-wife-cropped.jpg
421
903
Rohan
https://openschoolsworldwide.org/wp-content/uploads/2018/12/openschoolslogowhite.png
Rohan
2021-01-25 03:35:04
2021-01-25 03:57:23
Remembering A Spiritual Giant