Living at the Ngozi Mine dump in Bulawayo, Zimbabwe, with three siblings and a single mother, life was hard for Preciate. She often dreamed of an education and a future, but finding the money to pay for her schooling was always a challenge, and she was forced to drop out after grade 3.
In May 2016, Open Schools Worldwide started an education program at the Ngozi Mine dump. Many of the children who joined the program lived and worked at the dump, assisting their parents, relatives, or guardians, collecting items among the rubbish that could be sold for some money. None of them were enrolled in school. However, the authorities soon insisted that these children were put into formal schools. In January 2019, Open Schools partnered with a local NGO, and sponsored the school fees for 19 girls, including Preciate.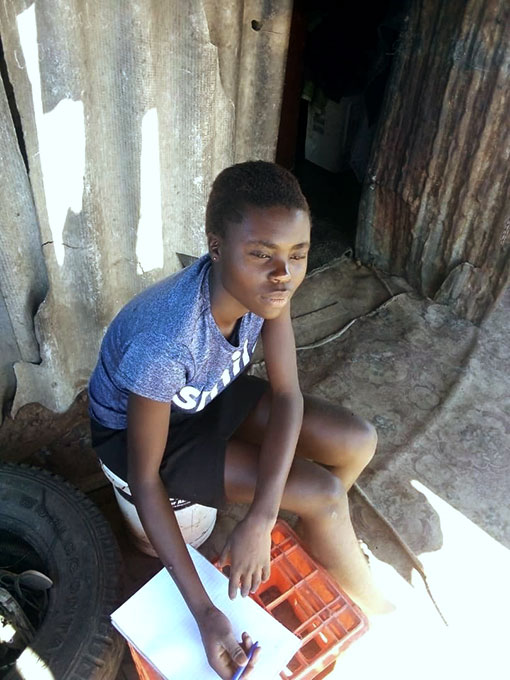 many girls at the dump get pregnant or married off in their teens; but despite her age, 16-year-old Preciate was determined to go back to primary school to study. She was put into grade 6 and excelled.
"I was so thankful for the opportunity to study. In spite of going to school every day on an empty stomach, I was focused on my goal to do well," she said.
Preciate committed her life to Jesus during these years, through an Open Schools partner-church that was set up at the dump. A key verse in her life has been Psalms 23:4, "Even though I walk through the darkest valley, I will fear no evil, for you are with me; your rod and your staff, they comfort me."
"Things are still a challenge at home. Our mother does her best to take care of us but struggles financially. Her health has deteriorated. Sometimes we have to sleep without eating anything. But I always remember that Jesus is with us," she shares.
"There are so many people who have been instrumental in helping me through life. My desire is to become a doctor, and help bring change in others' lives, by letting my light shine in the world," she adds gratefully.
Written by Brehznev Masesa
https://openschoolsworldwide.org/wp-content/uploads/2020/06/Preciate-smile.jpg
363
810
Rohan
https://openschoolsworldwide.org/wp-content/uploads/2018/12/openschoolslogowhite.png
Rohan
2020-06-16 14:50:22
2020-06-18 19:33:50
Education at the Rubbish Dump: A Story of Hope